It's not often that I come out of a movie theater with deeper spiritual insight. This weekend I viewed War Room; the Holy Spirit spoke to me.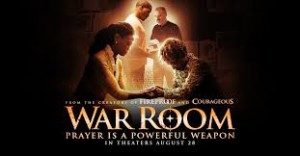 Some critics implied that War Room addresses a straw man issue. Of course prayer changes things, they say. Reviewers claim no one would argue that God doesn't want us to pray more fervently or that American Christians as a whole haven't become apathetic. They may be right, but I needed to see the movie anyway.

Intellectually, we know the power of prayer already. But the movie did something that we, the church, needed. It stirred our hearts to pray. It showed us characters who were trying to live an abundant life by achieving things on their own and failing miserably. Then it showed us the power of prayer in  a life turned over to Jesus.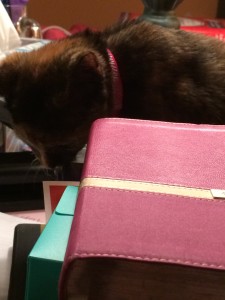 If you've seen the movie, you know that Elizabeth Jordan didn't even realize her life was about to implode when she met her mentor, who taught her to pray. We watch Elizabeth's family sink further and further until her only hope is found on the floor of the newly-bare closet.
By walking through the marital land minds with Elizabeth Jordan, I asked myself why I've spent most of my prayer life like I don't understand the power of prayer or its importance. I read in the Bible that God can make the whole earth and everything in it appear with only a word, but went about prayer like an item ticked off a to-do list.
Only recently have I even had a "war room," a corner I've set up with Bible, notebooks, and prayer card file. Our CBS teaching director gave us practical tips for a more meaningful "quiet time" this July, and I've been enjoying richer, deeper conversations with God ever since. I now say quiet time with scare quotes because it only appears quiet on the outside–it's like a silent cacophony of ideas, scripture, and praises every morning in my prayer corner!
I have a lot to learn still, but the movie sparked a new epiphany. Everything I've done in my forty-three years stems from my perception of how God views me. Including the way I talk with Him. Don't we approach people and talk to them differently, depending on our relationship with them? It's the same with our approach to God.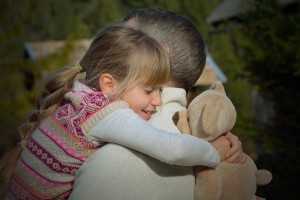 If a little girl encountered a burly man with a loud voice on the street, she might shirk away from him. But if that same man were her loving father, she would likely run up to him and jump into his arms.
If we view God as indifferent (or worse), we won't approach prayer time the same way we'd look forward to talking to and hearing from a doting heavenly Father as the sun peeks over the horizon every morning.
Since I've gone from thinking God barely tolerated me to understanding what an incredible, deep love He has for me, my prayer life looks a lot more like the latter than the former. I'm astounded by the beautiful things He's showing me (even when sometimes they cut to the quick), and grateful that He's increasing my understanding of Him every day.
Sometimes I still hear the negative voices in my head. Why would God want to listen to you? You messed up again yesterday. Or, What's the big deal—it's not like God doesn't already know what you're going to say anyway. But little by little, I'm learning to banish those lies and just enjoy the moments with God because He delights in them with me.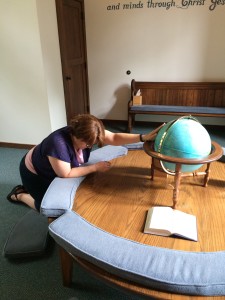 We all fight. Everyday, we battle something: injustice, systems, traffic, illness…the list goes on. War Room's thesis isn't the Sunday school pat answer to everything (Pray more!). War Room is a reminder that we do not fight against "flesh and blood, but against the rulers, against the powers, against the world forces of this darkness, against the spiritual forces of wickedness in the heavenly places" (Ephesians 6:12 NAS).
How we go about doing that depends on our understanding of who our allies are. The major difference is having an undeniable, unshakeable conviction that God is for us. With a love deeper than any human can imagine, and a passion for an intimate relationship we can go to God with confidence, knowing that He is all about mercy and grace in our time of need (Hebrews 4:16).
Anyone else struggled with this? Did you have guilt over your lack of quality prayer time? If so, did you ever consider why you avoid it? Please continue the conversation in the comments.