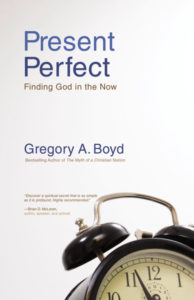 What are you reading this summer? If you want a light, no-brainer book, then this isn't the book recommendation for you.
But if you want a book that will change your thinking about the way you relate to God, then keep reading.

Ever notice a gap between how you're supposed to feel about God and the way you really relate to Him?
I used to stand in church and sing about worship, adoration, glorification, and exaltation, but in my heart I wondered if God even really liked me. At best, I supposed, He barely tolerated me.
I've blogged about many of the reasons why, and my road to an unquenchable faith before. There were many ways God intercepted my downward spiral and gave me a whole new outlook about my relationship with Him.
Of course, knowing exactly how to get my attention, He used one of my favorite mediums: books.
Today I want to share one of the most impactful works I've ever read. Aside from the Bible, Greg Boyd's Present Perfect helped shape my deformed thinking about God into a more realistic view more than any other.
It's a short book, but jam-packed with truths to point us to an unabashed adoration, free from doubt about where we stand with God.
Here's a small sampling: "You could not be more loved than you are this moment. You could not have more worth that you have this moment." (Any moment! Even at your worst.)
Boyd's straight-talking text will help you remember that the Throne of Grace is only one thought away; we can enjoy the presence of God all day, every day.
I highly recommend this book to anyone who wants to practice living in the presence of God in every moment.
If you've read it, let me know what you think in the comments! If not, please check out the sample on Amazon and comment on what you've read so far.
Happy reading!