But now, thus says the LORD, your Creator, O Jacob, And He who formed you, O Israel, "Do not fear, for I have redeemed you; I have called you by name; you are Mine!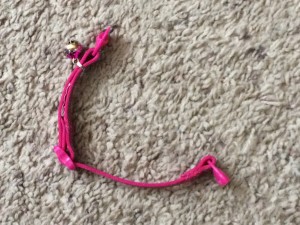 The other morning when my kitten, Lucy, greeted me, I noticed she wasn't wearing her collar. Being a safety collar, it isn't hard to unclasp—one little tug and it snaps right off. Somehow, she had gotten it off during the night. I looked around but couldn't find it.

All day long, every time I saw her (which is often for my constant companion), I wondered where the collar could have landed. It just seemed wrong for her to walk around without it. (Plus, a collar with a jingle bell is a great way to keep track of the whereabouts of sneaky cats. She can't jump on the counter undetected while wearing it.)
Lucy is one of thirteen kittens born last year on my friends' farm. Three mama cats produced a bevy of little darlings who needed new homes, and I received her joyfully. Some would say I spoil her, a claim I don't deny.
It just felt weird seeing her without her collar—a simple pink piece of nylon and plastic that distinguished her from all of her siblings and cousins. Normally if we see a pet outside with a collar, we know it belongs to someone. Lucy's collar is a mark that means she belongs to me. She's mine.
Collar or not, Lucy knows without a doubt that she's mine. I'm the one she asks for food, petting, and play time. If I curl up on the couch, she lays either snug up next to me, or on my lap.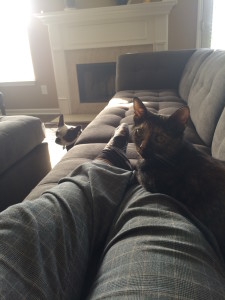 If she senses that my mischievous Boston terrier wants to chase her, as he is wont to do occasionally, she'll crouch down and wait for me to pick her up. Once in my arms, she recovers her courage. Her countenance changes back to the ferocious hunter attitude of her ancestors. (Don't pity her too much—she's just as apt to lay in wait to pounce on him. They play little games like that.)
Anytime she's afraid, she allows me to pick her up and she loses her fear. Her ears return to up and alert, rather than down. She lifts her head and relaxes her limbs. Most of the time she purrs. When I carry her, I remind her that she's mine and I'll keep her safe.
It's not unlike our relationship with God. We forget what He says in His Word: "Do not fear, for I have redeemed you; I have called you by name; you are Mine!" We don't have to be afraid because we belong to Him.
In our minds, we know this. But it's easy to forget when our plans go sideways or circumstances turn things upside down. The thing we fear seems bigger than us, and we focus on that thing instead of the fact that God is way, way bigger than whatever we're afraid of.
Just like my silly,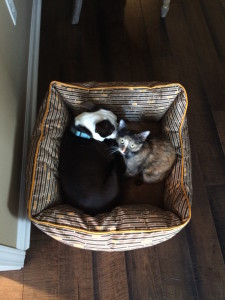 playful kitten forgets that the dog won't actually hurt her, we lose sight of His plan and purpose for us. We go around like we've lost our collar—our seal for the day of redemption. (Ephesians 4:30).
Fear is a symptom of forgetting Whose we are.
I think this is why Jesus taught His disciples to pray beginning with "Our Father who is in heaven, hallowed be Your name." Matthew 6:9
Three things jump out at me from the beginning of the Lord's Prayer:
We have a great, big God—bigger than the earth and anything we might be afraid of. So big that He resides in heaven!
God is our Father. We can rely on Him for protection. He's always there to comfort us.
He is Holy. Because he's holy, He is perfectly good. All of His intentions toward us are good.
Sometimes fear comes out of nowhere. It's easy to take our eyes off the Father in heaven and to forget how good He is. Something we once thought solid bottoms out and we lose our balance—it's a gut reaction to a shift in our security.
The quicker we remember Whose we are, the faster we're able to relax in our Father's arms. He squeezes us in a hug and says, "You're mine."
Keep the conversation going! What verses comfort you when you face fears?