This weekend we celebrate our fathers, father figures, and fathers of our children. Dads across the country will open ties, BBQ gear, and their cold beverage of choice, along with handcrafted cards out of construction paper, glue, and markers.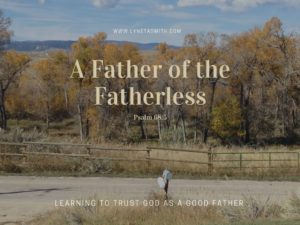 But if you're like me, you're also half-bracing yourself against the blast of Happy Father's Day wishes this year. For whatever reason, thoughts of your father are less than happy. Whether he's passed away or your relationship with him is painful, the day comes as a barrage of reminders about something you lack.
Many of us who've had a wrong understanding about the character of God—about who He is as our heavenly Father—derived those beliefs, whether consciously or unconsciously, from our relationships with our dads.

I remember a day when my dad asked me to reach my hand into the garbage disposal to find the cause of a grinding noise. "My hands are too big to reach down in there. Yours are little enough," he'd said.
At seven, I already knew the danger. Whatever went down that hole got grounded into tiny pieces. Besides, the sound was scary. I feared (irrationally) he'd turn on the switch with my hand inside.
"No, Dad! I don't want to get hurt!"
"Do you think I'd do anything to hurt you?" The hurt in his voice softened my resolve.
"I just need you to feel and see if there's a spoon or something caught down there."
Hesitantly, I pushed my hand through the rubbery black flaps and touched the blade, surrounded by remnants from last night's TV snack. "There's nothing but popcorn kernels."
Satisfied the grinding noise wasn't cause for a plumbing project, he thanked me and went on his way.
I won't ever know what he was feeling that day, but I can imagine what sparked his ire. If my girls believed I'd let any harm come to them, my heart would be cut to the quick.
But my trust had been breached many times before that day in the kitchen. Long before I was born, he'd been attempting to drown out his own demons with alcohol. Like any addiction, it was partially to blame for the times I'd already had my world upended.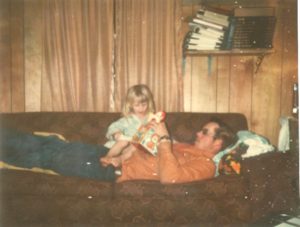 My conflicting emotions matched the turbulence of our family dynamics. I adored this man who let me climb in his lap and patiently taught me to read, the man who let me tag along almost anywhere he went to work, the man who dropped by school to bring me a sack lunch the day of the third-grade picnic when I'd forgotten to pack one.
But on the other hand, I cringed when neighbor kids came over to play in the yard and heard my parents' shouting matches through the open windows. I felt ashamed when he slurred his words and passed out on the couch. I never forgot the year I spent wondering if I'd ever see him again after my mom loaded us into the car and drove far away without a word of explanation.
Even in the happiest moments, I half-expected the bottom to drop out again.
Try as I might, I couldn't ever behave well enough to fix things so he wouldn't drink as much. A year later, I'd chastise myself for not being able to keep things together when my mom moved out, again without warning. The rest of my childhood and youth I spent yo-yoing back and forth between their houses.
Thirty-five years after my dad's and my conversation in the kitchen, my siblings and I laid him to rest only a few miles from that same house with the garbage disposal. When distant relatives asked how he died, I numbly rattled off what the coroner put on the death certificate, COPD. But if I'd said exactly what I was thinking, it would have been, "He drank and smoked himself to death."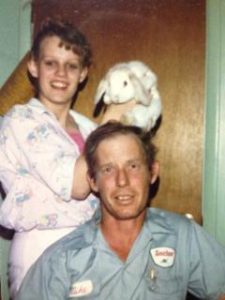 I still have the same complex feelings. Admiration and fondness mingles with sadness about the security and safety I missed out on as a child. I long for the moments I would never get to share with him because our home was ripped apart, or because he was too intoxicated to function. I don't believe he would have intentionally harmed any of his kids, but the wounds happened nevertheless.
Learning to trust God hasn't been easy. Life still feels out of control sometimes. My tendency to try to fix things on my own gets in the way of depending on God for everything.
But I've seen God work wonders in my healing. After I lost my dad, He comforted me by saying, "Let Me be your Father."
He's shown me in His Word since then that He is trustworthy. We can't change the broken or missing parts in our father/daughter relationships, but we can trust God to be a Father for the Fatherless. 
"He redeemed my soul from going down to the pit, and I will live to enjoy the light" (Job 33:28).

"A father of the fatherless and a judge for the widow, is God in His holy habitation. God makes a home for the lonely; He leads out the prisoners into prosperity. Only the rebellious swell in a parched land" (Psalm 68:5-6).

"The Lord is close to the brokenhearted; He rescues those whose spirits are crushed" (Psalm 34:18).

"For we are God's masterpiece. He has created us anew in Christ Jesus, so we can do the good things he planned for us long ago" (Ephesians 2:10).

"I'm sure now I'll see God's goodness in the exuberant earth. Stay with God! Take heart. Don't quit. I'll say it again: Stay with God" (Psalm 27:13-14, The Message).
The Bible is full of assurances that we can trust God. What are some of your favorites? Please share in the comments.